We have taken delivery of a new drilling rig to offer a more comprehensive service to customers. Our Ditch Witch AT40 has been optioned so it works as a dual purpose rig in that it can drill not only through soils but also rock.
It has a 'twin rod' system allowing the rock drill bit to be engaged to drill through rock and harder ground formations. In this system an inner drill rod provides the drive to the cutting head and the outer rod rotates a two degree bent sub to provide steering. The outer rod also transmits full machine power to the reamer when reaming. There is no requirement for the mud to provide power at the head as with a mud motor and consequently far less fluid mud is required.
This leads to savings in the cost of supply and disposal of the mud and reduces the risk of environmental spills and frac-outs. The rig can also be used with traditional rods and tooling to drill in traditional conditions and to achieve tighter bend radii.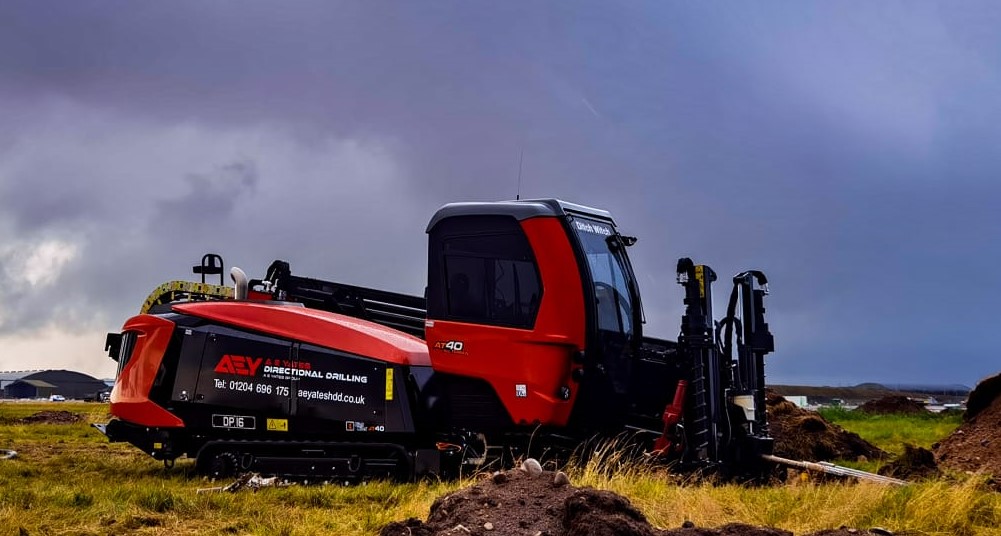 The rig offers boosted power to maximise drilling performance. It is a compact, powerful machine offering a reduced footprint and has increased pipe-rack capacity for enhanced productivity. Additionally, the new machine has an excellent operator interface and station for a more transparent view into all machine operations, improved operator comfort and enhanced operational control. Equipped with a 160hp Tier 4 engine it provides 14 percent more horsepower than competitive models in its class.