AE Yates Group recently hosted our annual Health and Safety Day for 2022.
The active involvement of the workforce is fundamental to good health and safety management. Throughout the day everyone interacted using web based interactive software increasing engagement and allowing informative live feedback to the presenters and Directors.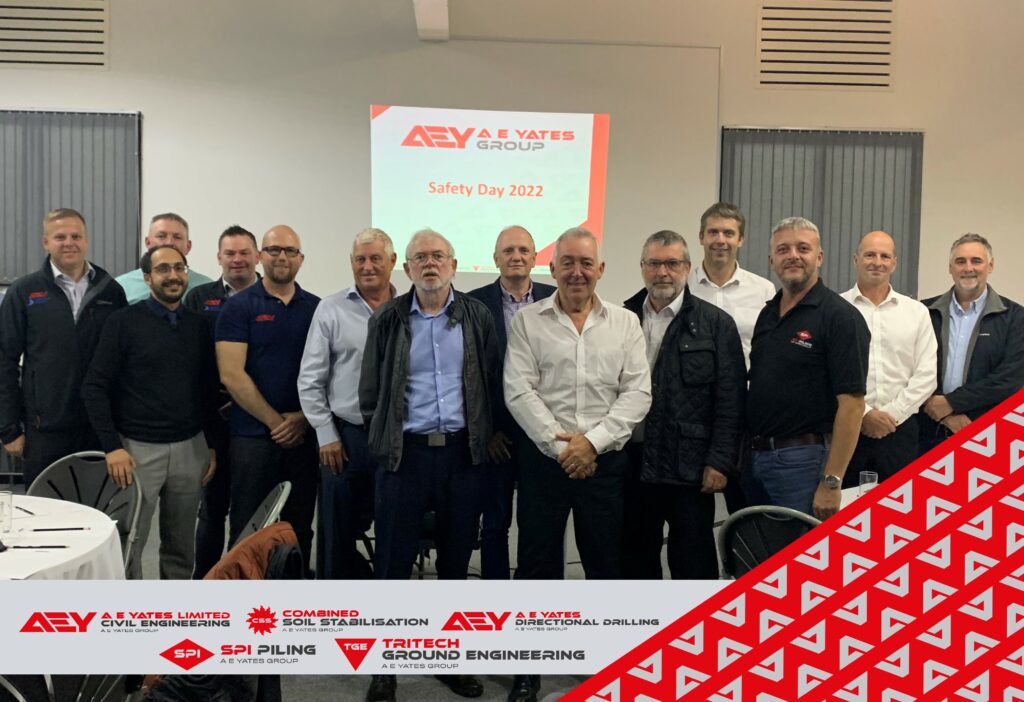 This year's safety day was hosted by John Burke, Mark Lesley (HSQE Managers) Supported by Sven Till and Alan Smith (Directors of AEYates Group), enforced by the senior Leadership commitment to Health and Safety within the companies.
Let us talk about how our day went and some of the things we covered. Starting with the HSE and National Statistics, released the 2020/2021 Health and Safety Statistics, summarising the documents for your information.
Enforcements
The act of compelling observance of or compliance with a law, rule, or obligation.
By not following the relevant laws, rules or obligations within health and safety at work the results shown below for 2020/2021 show the outcome of Prosecutions, Notices and Fines for none or little compliance with Healthy and Safety at Work.
HSE Statistics, Industry wide.
185 Cases prosecuted where a conviction was achieved in 2020/21
2929 Notices issued by HSE in 2020/21
£26.9 million in fines resulting from prosecutions where a conviction was achieved in 2020/21
Our Safe System of Work (SSoW) is a formal procedure based on a systematic examination of work in order to identify the hazards. It defines safe methods of working which eliminate those hazards or minimise the risks associated with them. Put simply, a safe system of work is a defined method of doing a job in a safe way. PPE Standard within site rules and RAMS are there to mitigate the Risk.
Below is a pyramid that shows Statistical Trends.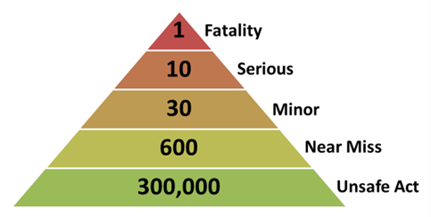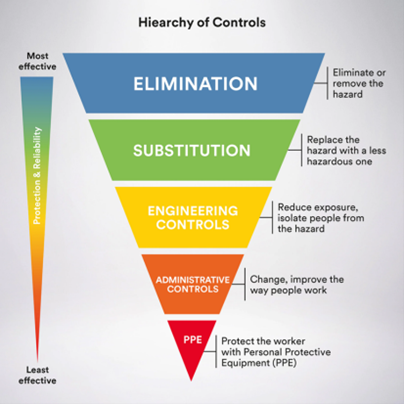 The list is endless for what everyone would surmise is the biggest common hazard on construction sites such as.
behaviour, access, working conditions, poor visibility…….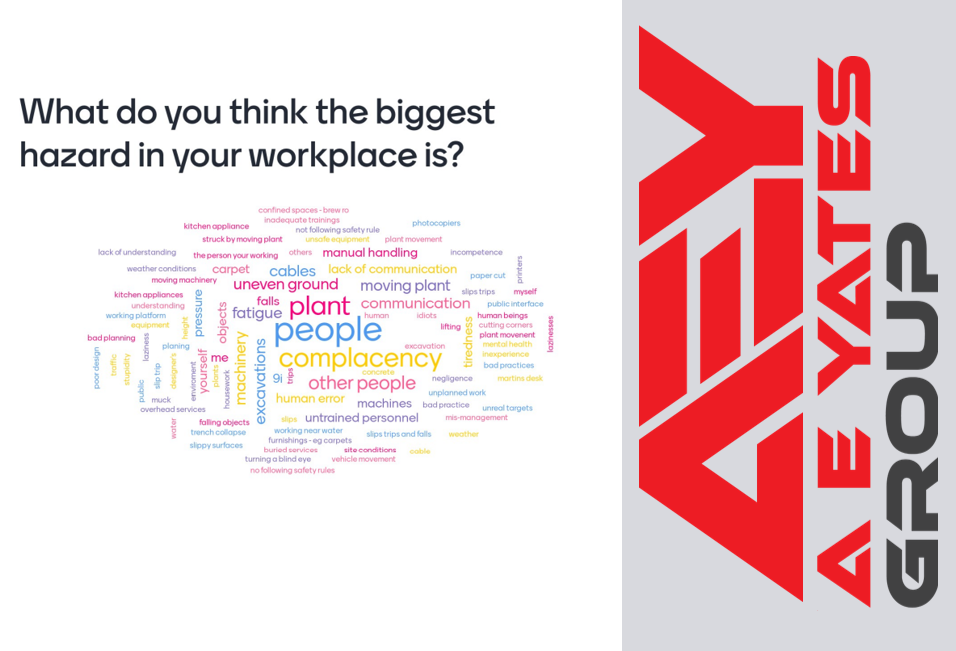 All these answers are correct, there is no wrong answer. However, the biggest common Hazard is US HUMANS! Yes, us as individuals! We are all empowered to make decisions based upon our own knowledge and experiences.
For us to improve and ensure the HUMAN factor is controlled is by, making sure that the following is in place by all individuals before starting any works.
Training
Knowledge
Briefings
Information
Restrictions
Instructions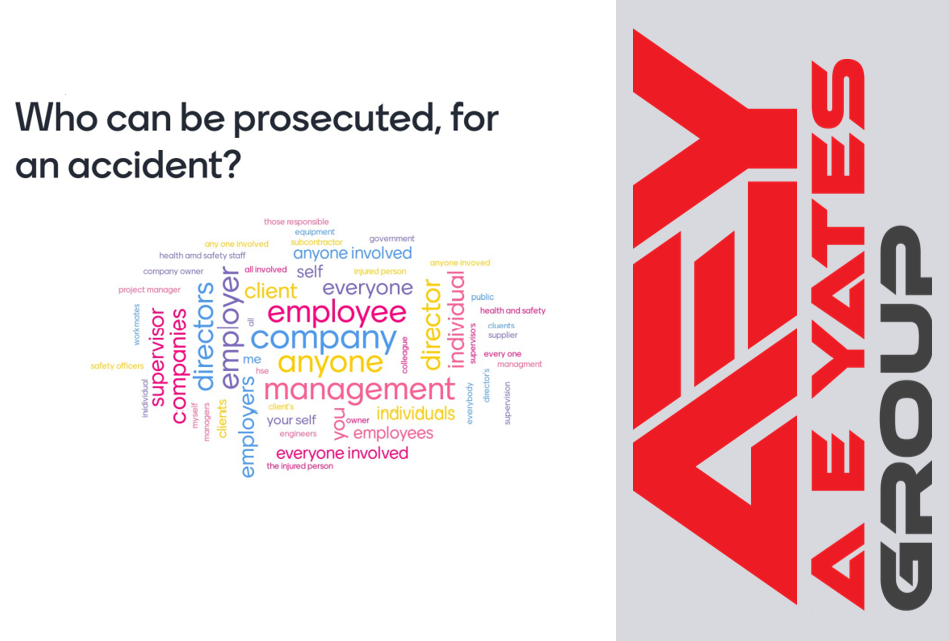 The Team went on to review their own practices and in particular question the Health and Safety Culture within the business.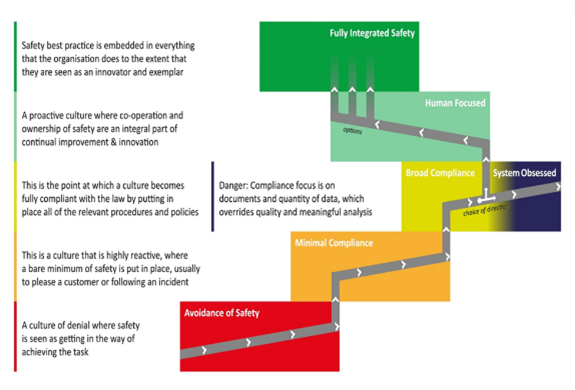 Behavioural and Behaviour Mechanisms and Challenges. The observable response made to a situation and the unconscious processes underlying it.
As our Safety Systems, Procedures, Tools and PPE, etc. get better at removing risks, and as injury performance improves, the perception that it is safe here is reinforced.
The perception that 'it won't happen to me' is reinforced by low injury rates and good safety systems, and it is also strengthened when we are in control of what is going on (I'll drive the car because then it will be okay – i feel less sure that it won't happen if someone else is driving)
In risk assessment terms, unless we are confronted with something that is potentially dangerous, we give ourselves (on a subconscious level) a rating of 0 for the likelihood of a bad thing happening.
If the likelihood is (albeit subconsciously) 0, no matter how high the exposure and consequence figure, our (subconscious) risk rating is still 0 – that is why people left to their own devices do daft things.
You are likely to get away with it for a while – probably long enough for the unsafe behaviour to become a habit. Combined with habit and alpha, PRP can be extremely dangerous.
Re- Establishing Our Commitment to improved Health and Safety Culture within the business setting our goal: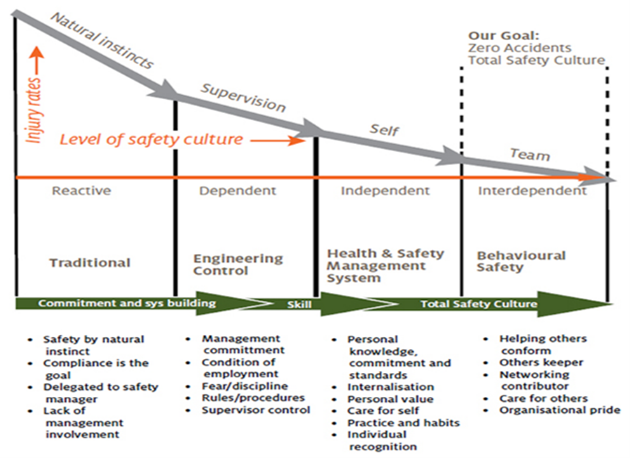 All our staff have signed our Safety Charter Promise (our Health and Safety Commitment) to make sure that we follow the safety charter rules.
Safety is our number one priority.
safety of everyone is our responsibility.
We will adopt a questioning attitude and will not take risks.
We will acknowledge and act upon any near miss or potential breach of safety.
We will Acknowledge and act upon reported events.
We will encourage and recognise good practice. Good performance and safety initiatives will be recognised. We will consider the welfare of others at all times; in everything we do and/or witness.
A Statement from the Group HSQE Manager:
"Allowing our workforce, the facility and time to gather is key to ensuring their input into what the business needs to do to improve performance and compliance. The safety days held each year work really well in gathering the thoughts at each and every level of the business. You would expect that peer pressure would drive down the workforce participation but in actual fact these events get better every year with more and more topical discussion about the intricate details of our daily operations.
I would like to thank everybody for attending and hope that by sharing our experiences we continue to drive forward the passion for Health & Safety within our business."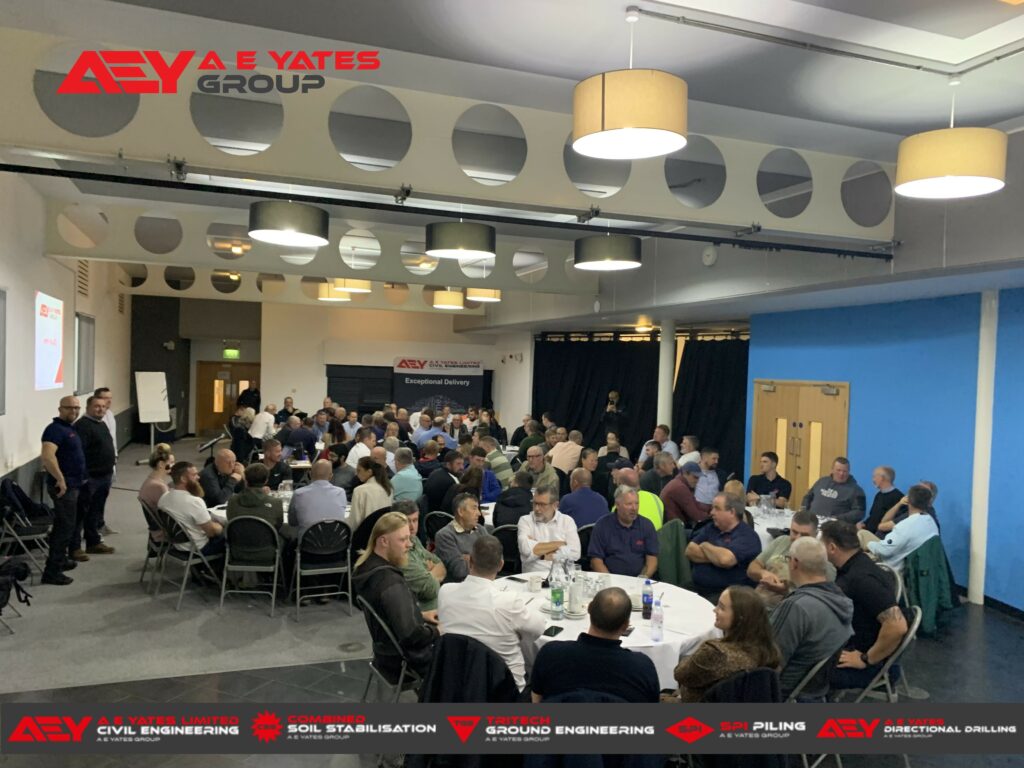 A E Yates Civil Engineering is the first business in the group to be formed. Founded in 1870 it would trade for 120 years before the formation of the next company in the group. It is a progressive civil engineering contractor with an enviable track record of successfully delivering technically demanding high quality works to the complete satisfaction of a wide variety of public and private sector customers. Projects have been undertaken through traditionally tendered routes, project specific partnering arrangements and long-term strategic partnering frameworks. The range of construction activities focuses on.
Early Contractor Involvement / Buildability Advice
Roads and Bridges
Flood Protection and Land Drainage
Rivers and Canals
Reduce Carbon Civil Engineering
Utility and Communications Infrastructure
Public Realm Works
Environmental Improvements and Urban Renewal
Industrial, Commercial and Private Development Infrastructure
Water and Wastewater Infrastructure


As an experienced specialist in steel piling, we offer a complete and comprehensive service to suit individual customer requirements. Working from conception through design and construction we seek to develop innovative solutions. We base our service on the following range of techniques.
Vibratory Leader Rig – purpose designed for sheet piling installation and extraction. Using variable moment vibratory hammers and augering equipment where required these rigs have short set up times, high output capability and all operations are carried out near or at ground level
Hydraulic Pile Press – using either our Tosa Stillworker Pile Press equipment or ABI Hydropress system. The Tosa uses previously driven piles to drive and extract piles hydraulically
Sidegrip 'Grizzly' and 'Movax' Hammers – mounted to one of our 35 to 38 tonne excavators the hammer is self-sufficient once pile packs are unloaded. This hammer is ideal for working in restricted conditions, including headroom, and can drive on embankments. The hammer can also drive tubular piles and posts
Vibratory Hammers – crane suspended and adaptable to pile type. Traditionally seen in conventional steel piling where piling 'gates' are used to maintain line and support the piles
Impact hammers – crane suspended for conventional piling, excavator mounted or attached to leader rig and adaptable to pile type
ENCOURAGING AND PROMOTING A CIRCULAR ECONOMY TO REDUCE CARBON IN OUR PROJECTS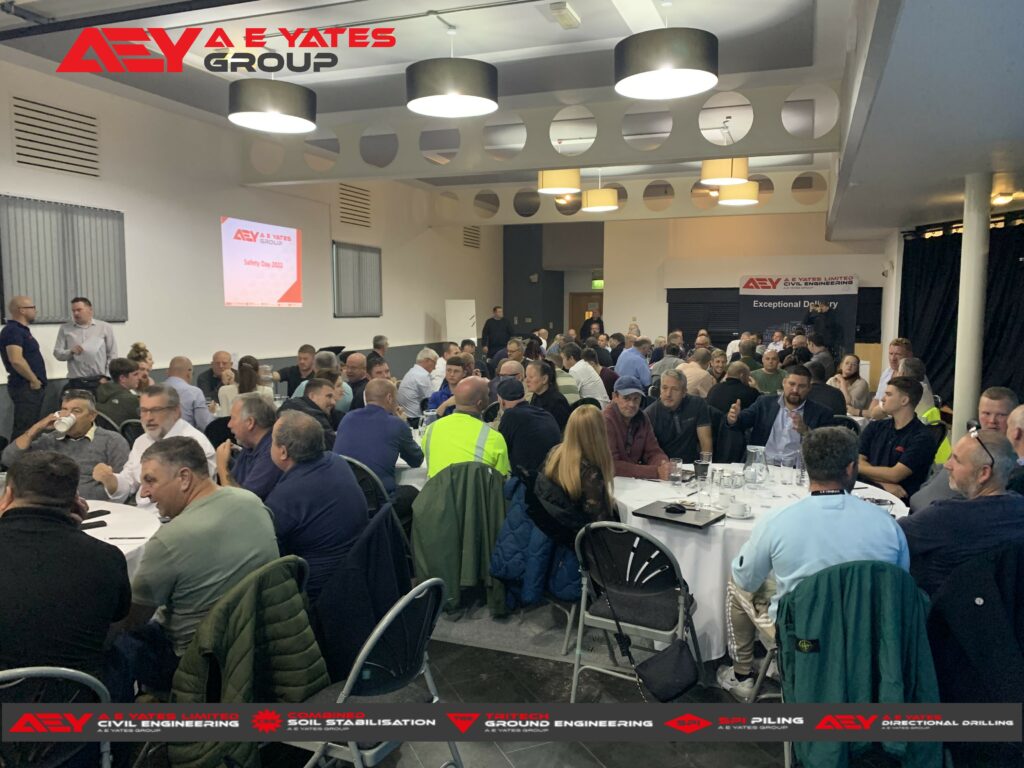 A E Yates Directional Drilling was originally formed in 1995 by A E Yates Limited. Formation of a specialist contractor was in direct response to increasing experience and workload in the underground engineering sector. Solutions for projects from £3,000 to £2,000,000 based on the Horizontal Directional Drilling (HDD) technique are developed and carried out nationwide. HDD is a non-intrusive method for the installation of pipes and ducts. Projects are delivered using our range of rigs and equipment by trained and experienced crews. The range of size and product material is.
Supply and install 25 mm to 900mm diameter pipe
Plastic and steel ducts and pipes
Welding and testing of product pipe
Specialist crossings
Design input and assistance
Turnkey packages

Combined Soil Stabilisation is the United Kingdom's UK's leading specialist subcontractor within the soil stabilisation industry and was acquired by the group in 2010. A range of services is offered which includes soil stabilisation, bulk earthworks and plant hire using our extensive fleet of specialist plant. Nationwide solutions for projects from £20,000 to £10,000,000 in value are carried out based on the following range of techniques to satisfy the requirements of our customers.
Modification/Improvement – the reduction of high moisture content of unacceptable materials to render them acceptable to enable the excavation, placing and compaction of general fill to be carried out in an efficient and economical manner.
Stabilising – the mixing of lime, binders or lime and binders and water with the host material to give a lightly cemented product with long term strength and durability.
Enhanced Stabilising – a development of stabilising giving a higher quality material with better performance.
Bulk Earthworks – offered in addition to stabilisation to offer customers a complete package tailored to suit individual requirements.
Plant Hire – our plant and equipment are frequently in demand from other contractors in the sector who do not have our financial strength or breadth of capability in project size.

The A E Yates Group acquired Tritech in 2009 and, in response to market conditions, realigned the business to become predominantly a ground engineering company. Operating nationwide we use our specialist experience to offer best value cost effective foundation solutions to our customers.
Services offered are;
Ground Improvement
Ground improvement using the vibro displacement method (stone columns) is an extremely economical means of enhancing ground bearing capacity and limiting settlements. We provide both top and bottom feed options.
Driven Piling
Precast concrete and heavy walled tubular steel piles supplied in a range of section sizes and lengths. Concrete pile sections are available with a range of joints from spigot to full moment. Our steel piles are API grade steel recycled from the oil and gas industry.
Integrated Foundations
Packages are complete foundation solutions tailored to each project. The precast concrete system of piles and beams provides a complete bespoke foundation ready to support your structure.
Restricted Access Providing solutions for unusual, difficult or tight situations not covered by our other services. We have an array of techniques that can apply to most scenarios.