Case Study
Aberdeen Western Peripheral Route
Aberdeen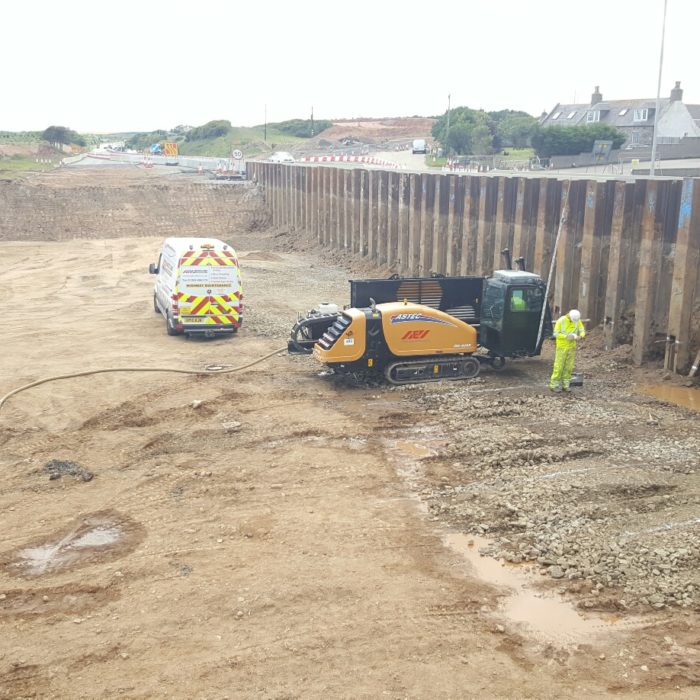 Client

Transport Scotland

Contract No.

D510

Ground Conditions

Sand / Gravel / Cobbles
Overview
Aberdeen Western Peripheral Route (Aberdeen Bypass)
A E Yates Trenchless Solutions Ltd were contracted to install 25 steel tie bars by HDD under the Balmedie underpass to tie the piles together to hold the road structure above in place. This was to be monitored by the client as heave or settlement could close the road above.
SPI Ltd which is also part of the A E Yates Group, installed the piles and cut out 150mm x 150mm holes in the piles to allow our drill rods to get through. This had to be very accurate steering of the drill head as the drill head was 127mm, there wasn't much room for error. After the pilot rod exited the hole in the reception pile, the tie rods were then pulled back through to the drive side, there was approximately 400mm of steel bars protruding from each side of the piles, these were then torqued up to pull the piles together.
The tie bars were installed using our Astec 4045 HDD rig, this rig has the capability of 18 tonnes of pullback and 4,500 ft-lbs of rotational torque.
Each HDD tie bar crossing was 25m from pile to pile in length.
This project was successfully delivered on time and within budget and a very happy client.