Tritech Ground Engineering have recently completed a 'shed' project using precast concrete piles. We regularly carry out large distribution warehouse projects, known as sheds in the sector, with our vibrostone column rigs. However we did not, until now, have the capacity to take on this type of project where large numbers of precast piles are needed. That changed when we recently acquired our fourth precast rig giving us the confidence to undertake these projects.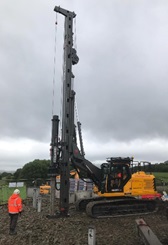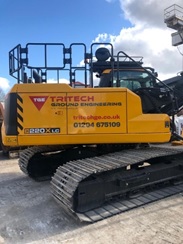 We teamed one of our small 27 tonne rigs with a hired more traditional 58 tonne rig due to the demands of our work programme. It also gave us the opportunity to get a realistic comparison of outputs. Over the six week programme we got the following results;
our rig achieved very similar outputs to the larger rig
piles between 200 and 300mm square were used
piles were driven up to 14m in length
outputs allowed the removal of the larger rig after four weeks
over 1000 piles in total were driven
The use of smaller rigs has an economic and environmental advantage in that the lower bearing pressure exerted by the rig allows a reduction in piling platform requirements. The costs of this, on the massive footprints of some of these logistics and distribution facilities, are significant. The material used for the platforms is generally virgin aggregates and the reduced volume required and its transport to site has a positive impact on resource usage, CO2 emissions and the noise and vibration caused by delivery wagons. The neighbours are happier too!
Our team would be pleased to discuss the potential for using our small rig fleet on projects so please get in touch by via the 'contact us' page on the website.