Tritech Ground Engineering has grown over the last year even though we have faced extraordinary and challenging times. For once use of the word 'unprecedented' was not hyperbolic and the world has seen huge and unexpected tragedy and upheaval. The construction industry, particularly the residential sector where the majority of our work is carried out, was not immune but has adapted well to the crisis following a hiatus from April to June. As a business we responded by working closely with customers to ensure recovery. A few of the year's notable achievements are;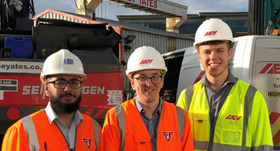 Investment in people – following our recruitment of graduates in 2018 & 2019 (Bilal, Ben and Adam shown right), this year we strengthened our senior management team. Our latest members of staff are Dr Colin Serridge who, in addition to his Principal Engineer role, supports the development and growth of our young people; Jack Nicholson who has taken up the position of Commercial Manager and, to support the expansion of services, Kris Hand our new Integrated Foundations Manager and Tom Doherty our new Restricted Access Manager. Most recently, Hizra Tariq has also joined us as a Graduate Designer Estimator.
Expansion of the fleet – our tally of piling rigs increased to seven with the purchase of another driven piling rig. The rig, developed and built to our specification, is the fourth on our driven piling fleet and arrived only two years after our first. It weighs in at around 25 tonnes and so exerts low ground bearing pressure reducing the required thickness of piling platforms. Our Kobelco vibrostone column rig, a medium sized rig that can operate at a similar rate to our larger rigs, was acquired just over a year ago to supplement our Ground Improvement service.
Development of additional services – we continue to develop services to offer our customers a more comprehensive range of options to suit their requirements. Integrated Foundations designs and fabricates our system of precast concrete groundbeams off site. They are delivered to site ready for immediate installation onto our prepared pile heads. Restricted Access covers bored piling, bottom driven piling and overburden drilling solutions. Our team of specialist engineers and crews deal with unusual, difficult or tight situations.
Although only four years have passed since the company was restructured to offer completely different services we chalked up our 200th order in August. This controlled growth is a great success story that has been achieved by qualified, trained and motivated management and workforce supported with investment by the A E Yates Group. We suspect the story doesn't end here!