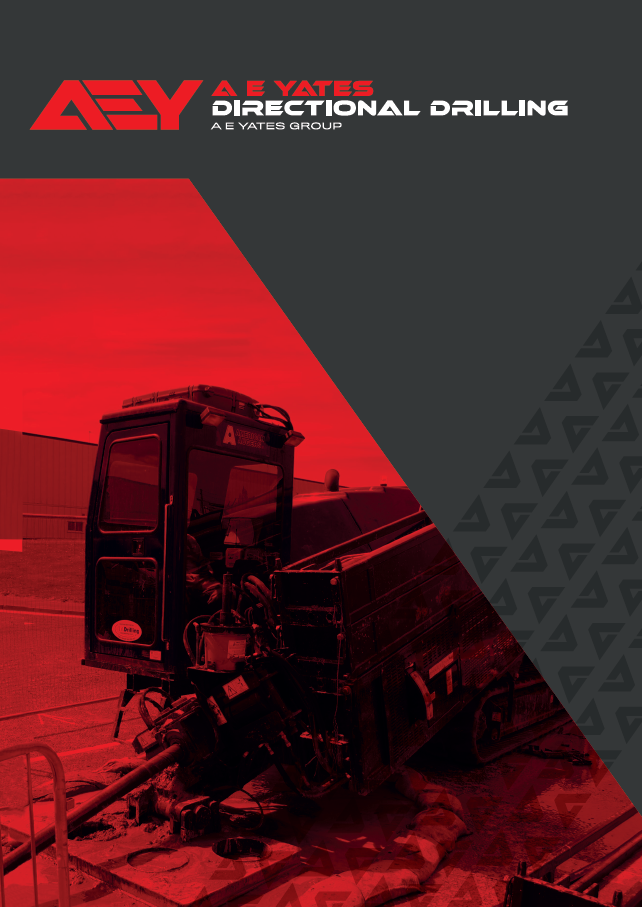 WHO WE ARE
A E Yates Trenchless Solutions was formed as a tunnelling contractor in 1995 by A E Yates Civil Engineering in response to increasing demand and workload in the underground engineering sector.
The business has recently undergone restructuring to form to A E Yates Directional Drilling in response to market conditions and changing customer demands to focus mainly on the Horizontal Directional Drilling technique.
HDD is a non-intrusive method for the installation of pipes and ducts.
WHAT WE DO
We develop sustainable solutions for projects in the range £5,000 to £2,000,000 utilising the HDD technique.
We have the required specialist skills, knowledge and capability to deliver solutions with our own rigs and equipment operated by trained and experienced crews. The range of services we offer are;
Supply and install 25 mm to 900mm diameter pipe
Plastic and steel ducts and pipes
Welding and testing of product pipe
Specialist crossings
Design input and assistance
Turnkey packages
HOW WE DO IT
Our rigs cannot work without trained operators and support personnel monitoring the depth, line and progress of the drilling head. The bore is initially formed by the drilling head and then reamed to the required size using different types of cutting tool (reamers) depending on the ground conditions encountered.
The bore and ground is supported by drilling fluid that is specifically designed for each project taking into account anticipated ground conditions.
This fluid is provided by mud mixing plant that can pump and recycle the drilling fluid. Our drilling rigs can be provided with additional drill rods allowing shots of up to 600m to be achieved depending on the rig and ground conditions.
Monitoring the progress of the drilling head is achieved by the use of transponder/sonde which is located within the drill head and sends a signal to an operator held unit for walkover control.
The tracker is in contact with the rig operator to ensure maintenance of line and level. Where the walkover method is not possible, for example where the bore crosses under water or live transport routes, a wireline method is used.
A magnetic field is generated with drill head position relayed directly to the rig operator.
CUSTOMER FOCUS
We work for a diverse range of customers throughout the United Kingdom. Customers include utility
contractors, multi-national conglomerates and major utility and infrastructure owners. Flexible in commercial arrangements we undertake projects through a variety of contract suites, frameworks and partnerships.
Generally we are initially approached for our specialist skills, knowledge, experience, financial stability and the service that we offer. We then seek to develop long term relationships by working with customers as closely as possible, preferably from the feasibility stage.
This customer focused approach is used regardless of the stage of our relationship with customers in the trust that the relationship will develop further.
We know from experience that early involvement is key to determining best value. Openness, honesty and trust play their part in any relationship and this is one of the main reasons that we have achieved a high level of repeat business.